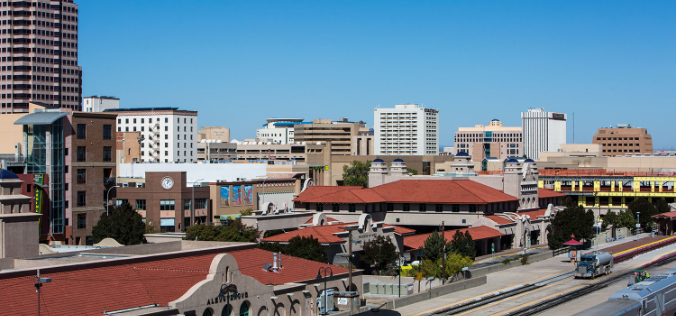 Founded: 1959
Mission: Through the leadership and vision of the New Mexico business community, NMCC will drive positive change by developing and advocating for effective public policy initiatives.
Strategy: Policy, Advocacy, Education and Outreach
Motto: The Voice of New Mexico Business
Purpose: New Mexico's near-term prosperity and long-term growth depend on a vibrant private sector. No advocate can speak better on the needs of the private sector than the private sector.
Vision: NMCC is a driving force that unites the New Mexico business community to make our state a leader in industry, innovation, economic competitiveness and overall quality of life.
Values:
Effective – NMCC is focused on results that benefit our member businesses and their employees throughout New Mexico
Non-partisan – NMCC works across party and ideological lines to create positive change for New Mexico
Inclusive – NMCC seeks out and incorporates voices from across New Mexico: from the North to the South, from rural to urban, from large industry to small business
Ethical – NMCC's work will be done with integrity, honesty, transparency and professionalism
Below you will find the most frequently asked questions regarding NMCC.  Feel free to explore.
---
What is NMCC?
The New Mexico Chamber of Commerce exists to make New Mexico a better place to do business. As the statewide chamber of commerce and business advocate, we give our members an unmatched opportunity to access and engage the state government in the decisions that affect them. We also offer a wide array of workshops, events, and resources help members learn, network, and stay ahead of the curve.
---
What is the benefit to my company of joining NMCC?
Influence: Our government affairs team is a highly effective and well-respected voice in Santa Fe, and our
policy agenda is set by our members so that you can directly impact New Mexico policy decisions.
Information: We keep our members well-informed on state and federal issues. Publications and member
e-alerts bring timely, exclusive information year-round on key legislation and public policy.
Engagement: We bring together a large, diverse group of New Mexico employers and organizations,
allowing you to interact with the top leaders from all regions and segments of New Mexico business
---
I'm already a member of an association or chamber. Why should I also join NMCC?
Your trade association or local chamber is an excellent way to focus on issues specific to your industry, region, or demographic. NMCC is the only statewide organization that brings together all of these perspectives to form a powerful, effective voice for businesses. NMCC has been a well-established and trusted business advocate in Santa Fe for more than 60 years, working closely with our members as well as local chambers and associations to set and achieve our policy goals.
---
How much time does it take to be a member of NMCC?
Members can engage as much or as little as they like. We hold regular policy committee meetings, as well as networking and educational opportunities throughout the year. Teleconferencing makes it easier for you to participate from anywhere. Once our members see how easy it is to impact policy through our committees, they actively participate! If you choose not to be active, your membership still ensures your voice is joined with others, and we will still advocate on your behalf.
---
How does NMCC help our state?
NMCC develops and advocates for effective public policy initiatives for New Mexico because when employers flourish, employees make more money and New Mexicans have more opportunities. We connect the lawmakers and regulators who impact our economy with the business leaders who understand it best. Through NMCC, you can voice concerns and promote new ideas to help grow
New Mexico.
---
How does NMCC decide its positions?
Our policy positions are 100% member-driven, meaning that you directly impact New Mexico policy as a member. By participating in policy committees, open to all members, you can help craft our positions on the areas important to you. Our agenda reflects our members' vision of public policy that will help our businesses, employees, and all New Mexicans thrive and prosper.
---
How is NMCC funded?
NMCC is a 501(c) (6) corporation. We do not receive any state or federal funds. Our funding comes from member dues, investments, and fundraising activities.